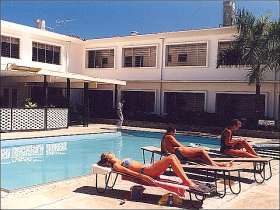 The CATHAY HOTEL is centrally located near the heart of Fijiís second largest city, Lautoka. The range of accommodation offered has made it popular with both local business people and international travellers on their way to/from the outer islands. Recommended in the Fiji Islands Handbook (David Stanley, Moon Publications, 2004), and in the Lonely Planet Fiji guide (Robyn Jones and Leonardo Pinheiro, Lonely Planet Publications, 2000) as a good place for meeting other budget travellers.

Rooms:
38 rooms with either ceiling fans or airconditioning, all with private bathrooms. Some rooms with refrigerators. Dormitory rooms with 3-4 beds, ceiling fans or air conditioning, and en suite bathrooms. "The dorms here are the best deal in the city...." (Fiji Islands Handbook, David Stanley, Moon Publications, 2004).
PUBLISHED DIRECT BOOKING RATES
Valid from January 1, 2016 until April 1, 2016
*Includes* ALL TAXES (9% VAT, 10% STT & 6% Environmental Levy)

Available for direct bookings via this website or direct with property. Travel Agents--please contact us for commissionable rates:
Fan Dormitory per person
F$27.00
Air-Con Dorm per person
F$31.00
Room with fan, private bath (single occupancy)
F$79.00
Room with fan, private bath (double occupancy)
F$79.00
Room w/aircon (UNRENOVATED), private bath (single occupancy)
F$94.00
Room w/aircon (UNRENOVATED), private bath (double occupancy)
F$94.00
Renovated Room w/aircon, private bath (single)
F$102.00
Renovated Room w/aircon, private bath (double)
F$102.00
Extra person
F$23.00
Except where indicated "per person", all rates are for the room, not per person, and INCLUDES all taxes.
LOCAL RATES are available upon request for current and former Fiji residents, subject to availability. We also offer special discounts for medical students undertaking internships at Lautoka Hospital (conditions apply).



Mastercard, Visa, Cash & Travellers Cheques accepted but please, no personal cheques. *NO SURCHARGE for credit cards*.To find out what our rates are in your own currency, you may wish to use the


Universal Currency Converter


This converter is to be used as a guide only; rates are charged in Fiji currency and are subject to the prevailing exchange rates.


Meals: Our dining room is currently open for BREAKFAST ONLY but there are many cafes and restaurants within easy walking distance.

Activities: Activities available in and around Nadi/Lautoka include:
Abaca eco-tourism trek-highland villages, waterfalls, native rainforests etc.
Island cruises/day trips to beautiful Mamanuca and Yasawa islands.
Snorkelling and Scuba Diving.

Facilities: Outdoor swimming pool and sun deck, bar, TV lounge with Sky TV, 24 hour reception, tours arranged, solar hot water (boosted as required), conference room, ample onsite parking, CCTV security.

Reservations: Advance reservations for the Cathay can be made by using our Reservation Form. Walk-in bookings are also most welcome on a space-available basis. You may also make reservations through your travel agent, but the above Special Discounted Interent and Direct Booking rates are only available for bookings made directly with us.

Reception Hours: Our reception desk is open 24 hours for your convenience.
Getting here from Nadi International Airport
(all prices approximate):
By Bus, hailed on Nadi highway, to Lautoka Terminal:
(daylight hours only)
please enquire as fares change
By Taxi from Nadi Airport to hotel:
please enquire as fares changei
Assistance at Nadi Airport - IMPORTANT: Since the closure of the Fiji Visitors Bureau at Nadi Airport, there is no impartial, official or government-sponsored visitors office at the airport. Please be aware that the only "information" now available at Nadi Airport is from commercial travel agencies who receive commissions for any bookings they perform.

Airport Touts - There are a number of travel agents and touts operating from Nadi Airport who may attempt to dissuade you from booking the accommodation/tour of your choice and instead will try to sell you accommodation or tours that pay them high rates of commission. You should also be aware that if you prepay a "deposit" to these agents for several nights accommodation and you later change your mind, you are unlikely to receive a refund from the accommodation facility. It is therefore recommended that you exercise your right to insist upon the accommodation facility of your choice, and only book 1 or 2 nights with these agents unless you are absolutely sure about how long you wish to stay. If you experience any problems with airport agents or touts, send us a note and we will take the matter up on your behalf.
CATHAY HOTEL
Street Address:
Tavewa Avenue, Lautoka (opposite the Northern Club)
Telephone:
(679) 666 0566 or 776 2203
Fax:
(679) 666 0136
e-mail:
cathay@fiji4less·com
Mailing Address:
PO Box 239, Lautoka, Fiji Islands

Interactive 'Were are Here' Map
To Make a Booking, please use the Reservation Form