TUBAKULA BEACH BUNGALOWS, On the Beach at Korotogo - near the Outrigger on the Lagoon Resort)
TUBAKULA

is the ideal place for a casual and affordable beach vacation, and the only BEACHFRONT budget property in this area. Our location near the Outrigger on the Lagoon Resort gives the budget traveller the option of either a quiet relaxing holiday or access to a wide range of activities nearby. Recommended in both the latest editions of the Moon Handbooks Fiji and the Lonely Planet Fiji guide.
"... Tubakula is a quiet, do-your own-thing kind of a place.... Seated on your terrace watching the sky turn orange and purple behind the black silhouettes of the palms along the beach, a bucket of cold Fiji Bitter stubbies close at hand, you'd swear this is paradise! One of the most popular backpacker resorts in Fiji and well worth a couple of nights" (David Stanley, Moon Handbooks Fiji , Avalon Travel Publishing, 2004)

Tubakula is not just for backpackers ... it's for anyone wanting to relax and unwind—families, couples and singles of all ages will feel equally welcome in this peaceful and unhurried beach front setting. We also cater for visitors attending functions at the Shangri-La Fijian Resort, The Warwick Resort and The Naviti Resort who are looking for affordable accommodation within easy commuting distance of these venues.
Bungalows: 27 bungalows, simply furnished but with all that you need: kitchens (2-burner gas cooker, refrigerator, utensils and crockery), bathrooms with hot/cold water, downstairs bedroom (sleeps 2), 3 extra beds upstairs, ceiling fans, insect screens, linens and maid service. You can view floorplans in the rates section below.
Rooms: All private accommodations are in spacious 2 storey bungalows with self-catering facilities.
Dormitory:A group dormitory that sleeps up to 40 guests is available for booking by groups of at least 20 guests or more. The cottage-style dormitory offers 8 dormitory rooms (mixed gender, 3-6 beds each) sharing a communal kitchen and shared bathrooms.
Meals: We offer simple, home-style meals and delicious pizzas in our main building; sample menus can be emailed upon request. In addition, all bungalows have kitchens and all other rooms share communal kitchens. A variety of cafes,takeaways and restaurants are a short stroll away.
What We Do Not Have: As a simple budget accommodation property, we do not have the following: air-conditioning, beach towels, beach umbrellas, carpets, clock radios, coffee makers, complimentary toiletries, concierge, hairdryers, internet access, irons (can be borrowed from reception), microwave ovens, ovens, phones (payphone in main building), porters, radios, room service, security lockers/safe deposit boxes (valuables should be placed in the hotel safe), televisions (there is a communal one in the main building), turndown service, and washing machines/dryers (we have washing tubs and laundry lines). These facilities and services are available at a number of full service resorts and details can be obtained from the Fiji Visitors Bureau.
PUBLISHED DIRECT BOOKING RATES
*Includes* ALL TAXES
Valid from January 1, 2016 until April 1, 2016
NOTE: Rates INCLUDE 25% Government Taxes (being 9% VAT, 10% STT & 6% Environmental Levy)
(Available for direct bookings via this website or direct with property.Not available through travel agents and non-commissionable). Except for dorm and extra person prices, all rates are for the room or bungalow, not per person.
Special booking conditions apply for the Christmas & New Year period
please email us for details.

Dormitory [ photo ]
F$32.00
Single Room (shared bathroom)
currently not available
Twin/Double Room(shared bathroom)
currently not available
Roadside Bungalow (1-2 persons)
F$146.00
Poolside Bungalow (1-2 persons)
[ downstairs plan ] [ upstairs plan ]
F$162.00
Oceanview Bungalow (1-2 persons)
[ inside photo ] [ downstairs plan ] [ upstairs plan ]
F$177.00
Beachfront Bungalow (1-2 persons)
[ inside photo ] [ downstairs plan ] [ upstairs plan ]
F$207.00
Additional charge per night for each extra guest aged 13 & over in a Bungalow
F$26.00
Additional charge per night for each extra child (aged 2-12) in a Bungalow
F$13.00
(Bungalows are identical in layout and differ only in location. All bungalows except Roadside Bungalows have a maximum capacity of 5 persons, adult or children; Roadside Bungalows can sleep 6 people. We regret that no exceptions can be made with respect to maximum capacity.)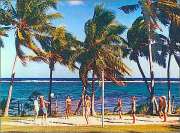 To find out what our rates are in your own currency,
please use the
Universal Currency Converter

We accept Visa, Mastercard, Cash and Travellers Cheques. *NO SURCHARGE for credit cards*. Find out about our discounts and specials.
Facilities
Sandy white beach
Laundry tubs (no washing machines)
TV Lounge with Sky TV
Free snorkel equipment
Village Feast
Volleyball
Swimming pool
Mini market
(snacks/sundries/liquor)
Tours arranged
Spacious grounds
Foreign exchange
Payphone
Activities:
There are lots of activities available in the Coral Coast area, including:

Eco tours
Local markets (fresh fruit/veg)
Surfing
Bushwalking
Fire walking/Fijian feasts
Sand dunes
Cultural tours
Active tours
Snorkelling
Canoeing/rafting
Car rental
Waterfall trip
READY TO BOOK? Advance bookings for Tubakula can be made in several ways:
Reservations for all categories of accommodation can be made by using our Reservation Form which will come to a "live" person during office hours who will respond and assist you personally, normally within 24 hours.
For group bookings, bookings for more than 1 bungalow or room, bookings for 6 or more nights, and bookings for Holiday Season Dec 22 to Jan 2 please email us at info@fiji4less·com. (This email address is not a clickable link--you will need to type in the address)
You may prefer to call our central reservations office at (679) 330 8644 or 330 8645, Mon-Fri 8 am to 5pm Fiji time to speak with a reservations agent
Bookings for 5 nights or less may be made over the telephone direct to Tubakula (you will need to provide valid credit card details to confirm and guarantee the booking)
Walk-in bookings are also most welcome on a space available basis should you not wish to make an advance reservation.
Reception Hours: Our reception desk is open 7 am to 10 pm daily, but we can arrange to have someone available to check you in after hours—provided you have a confirmed and guaranteed booking.

Diving: Diving can be arranged through various scuba operators. Bookings can be made through Tubakula reception after arrival or in advance when you make your accommodation booking.

Cultural and Nature Tours and Day Cruises: Our friendly reception can assist with booking day trips and tours available from Tubakula.
Getting here from Nadi International Airport
(all prices approximate):
By Bus, hailed on Nadi highway, to hotel:
(daylight hours only)
please enquire as fares are subject to change
By Taxi from Nadi Airport to hotel:
please enquire
When taking a taxi, we recommend agreeing upon a fixed price before setting off from the airport; the above fare is a suggested fare but may be reduced by negotiation.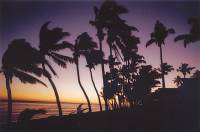 Distance from Nadi Airport:It is approximately 1 hour by car from Nadi to Tubakula and 2.5 hours by car from Suva to Tubakula. Buses and airconditioned coaches will stop at our front gate if requested.

Airport Transfers:We regret that we are not able to organise airport pickups but we can send you information on transport options from Nadi Airport to Tubakula; these range from taxis (fastest and most direct option) to public buses (cheapest). Please email us for more details.
Assistance at Nadi Airport – IMPORTANT: Since the closure of the Fiji Visitors Bureau at Nadi Airport, there is no impartial, official or government-sponsored visitors office at the airport. Please be aware that the only "information" now available at Nadi Airport is from commercial travel agencies who receive commissions for any bookings they perform.
Looking for BEACHSIDE ACCOMMODATION NEARER THE AIRPORT? Our SAWENI BEACH APARTMENT HOTEL offers spacious self-contained 1-bedroom apartments (with either air-conditioned or fan-cooled bedrooms) only 20 minutes from Nadi International Airport. Internet and Direct Booking Rates start at F$25 for dorm beds, and F$115 per night per apartment (single/double). Saweni Beach Apartment Hotel.
Tubakula Beach Bungalows
Street Address:
Korotogo, Coral Coast, Fiji
Telephone:
(679) 650 0097, 776 2205
Fax:
(679) 650 0201
e-mail:
tubakula@fiji4less·com
Mailing Address:
PO Box 2, Sigatoka, Fiji Islands

Interactive 'We are Here' Map
To Make a Booking, please use the Reservation Form for personal service by one of our reservations staff.